Halkidiki Network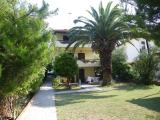 LAZAROS STUDIOS
Sithonia
Vourvourou
Visit our Website!!!
This e-mail address is being protected from spam bots, you need JavaScript enabled to view it
LAZAROS Accommodation Apartments & Studios


ENGLISH:
The most ideal accommodation for your summer vacation to experience the sea in the heart of Vourvourou in Sithonia offers:

two apartments, ideal for families (each 35 m 2 each) for four people on the ground floor of the building.
4 studios each with 25 m 2 each for 2-3 persons two on the first and second floors of the building
(for more info, visit our website from the link above)
ΕΛΛΗΝΙΚΑ:
Η πιο ιδανική μπροστά στη θάλασσα καλοκαιρινή σας εμπειρία στην καρδιά της Βουρβουρούς, στη Σιθωνία Χαλκιδικής σας προσφέρει:

2 διαμερίσματα ,ιδανικά για οικογένειες,(35 m2 το καθένα),για 4 άτομα στο ισόγειο του κτηρίου.
4 studios των 25 m2 το καθένα για 2-3 άτομα, ανα δύο στον πρώτο και δεύτερο όροφο του κτηρίου.
(για περισσότερες πληροφορίες, επισκεφθείτε την ιστοσελίδα μας από το παραπάνω link)
CONTACT - ΕΠΙΚΟΙΝΩΝΙΑ

| | |
| --- | --- |
| Tel Thessaloniki: | +30 2310 435560 |
| Tel Vourvourou: | +30 23750 91462 |
| Fax Vourvourou: | +30 23750 91462 |
| Mobile | +30 6945 411 779 |
| Address | ZIP 63078, Ag.Nikolaos - Vourvourou |
BUSINESS REGISTRATION NUMBER - Μ.Η.Τ.Ε. : 09.38.Κ.11.2Κ.01601.0.0

Latitude:

40.188004
Longtitude:

23.797878