Halkidiki Network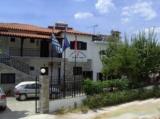 Giannis Maria Apartments
Sithonia
Psakoudia
Visit our Website!!!
This e-mail address is being protected from spam bots, you need JavaScript enabled to view it
ENGLISH
At 70 km. from Thessaloniki, next to a small sandy bay, in Psakoudia beach,
you can find "Jiannis and Maria" apartments. Apart from the incredible view,
since our apartments are literally on the seaside, there is airconditioning,
a fully equipped kitchen and television. Spacious parking, umbrellas and
sea beds are a few of the extra facilities of the area. There is also a big
barbecue which is used free by the residents at least once a week, but it is
also available for use at any time. Peacefulness is one of the main
advantages of the environment, since recreation centers for children and
adults, supermarkets and taverns are at 200m approximately away.
ΕΛΛΗΝΙΚΑ
Καλώς ήρθατε στα διαμερίσματα «Γιάννης και Μαρία» 70 χιλιόμετρα από τη
Θεσσαλονίκη , δίπλα σ' ένα μικρό αμμουδερό κολπίσκο, στον οικισμό Ψακούδια,
βρίσκονται τα διαμερίσματα «Γιάννης και Μαρία».Εκτός από την απίστευτη θέα,
καθώς τα διαμερίσματά μας βρίσκονται πάνω στη θάλασσα, διαθέτουν επίσης
κλιματισμό, πλήρως εξοπλισμένη κουζίνα και τηλεόραση. Άνετο parking,
ομπρέλες και ξαπλώστρες είναι κάποιες από τις πρόσθετες δωρεάν παροχές
του χώρου. Υπάρχει επίσης μια μεγάλη ψησταριά, η οποία χρησιμοποιείται για
δωρεάν barbecue στους ενοίκους τουλάχιστον μια φορά την εβδομάδα αλλά και
διατίθεται προς χρήση. Η ησυχία είναι ένα από τα βασικά προνόμια του χώρου
καθώς χώροι ψυχαγωγίας, για μικρούς και μεγάλους, super markets και ταβέρνες
βρίσκονται 200 περίπου μέτρα μακριά.
Tel: (+30) 23710 52348
Mob: (+30) 6932737101
Winter: (+30) 23710 41344
Fax: (+30) 23710 52348

Latitude:

40.260236
Longtitude:

23.487909